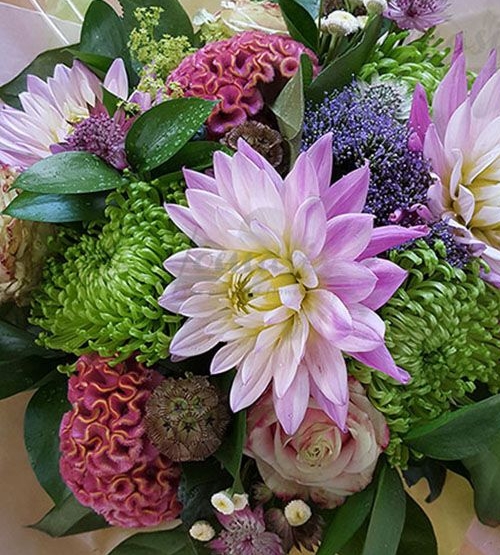 The cycle of death and rebirth is something that intrigues me. It is what brings me to the meaning of circle – the symbolism of unity, wholeness and continuity. Without beginning or end. This is something I have found a deeper connection to since working with flowers and developing a deeper spiritual connection to myself and nature.
Cycles are something that I have become more in tuned with over the years, whether it's the cycle of life, our seasons, or the cycles we find that we encounter as we journey through life. I have been drawn to this notion, which reflects in the connection I have with the customers who are drawn to me, creating flowers for their loved ones as their parting gift, in sympathy tributes.

Our cycles in life can be reflected in Nature, as she shows us the cycles she goes through, with the, flowers, plants and trees, with the trees shedding their leaves in the Autumn, exposing the structure that sits beneath, baring all in the Winter for us to see. She then gives us hope with the first signs of Spring with the flower shoots raising their heads above ground and the buds showing up in the trees. She reminds us again when Summer comes how we flourish and blossom once again
Whenever I create a flower arrangement for an, event, special occasion or workshop, I am intuitively guided to the flowers selected to bring a special meaning and energy; flowers to represent the event, the individual or occasion.
For each bouquet and every flower arrangement created, I provide you with the meaning behind the main flowers in your arrangement and deliver a message created just for you, and your occasion.
The arrangement could convey the ethos of your company, the colours of your company logo, the intention behind your event or special occasion. All this can be conveyed by the energetic property of each flower used. Whether it be by colour scent or structure of the flower.
Before my work begins, all my flowers have a spiritual blessing bestowed upon them to enhance their energy and for those that receive it to feel the energetic properties and profound wisdom of each flower.
It is from this point that my heart and soul get set to work, creating the flower arrangements where you can feel the love poured into the creations presented to t, as you walk away feeling the energy of everything that has been transferred into the arrangements that you see.
My Soul's purpose is to help people see flowers through different eyes, eyes that do not see the beauty alone but the loving energy behind each flower. Opening them up to a deeper connection to flowers, themselves and Mother Nature.

"The gift of a flower to oneself is to feed one's soul, you don't have to rely on anyone else to feed it for you".
The Spiritual Flower Lady