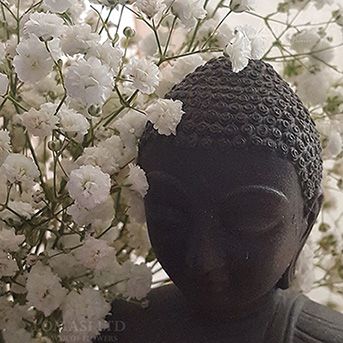 The Gypsophila is a flower which amplifies your intentions, helping you to prioritise things in life.
WHAT IS FLOWER THERAPY
Flower therapy is all about connecting with one of mother nature's most wonderful gifts, the flower. Each flower has energy and a message to help us with our specific needs and desires.
It involves being mindful and working with nature, which includes working with the spirits of nature. We all know how flowers can brighten up a room with the colours and the natural perfume they possess. They can enhance the mood of a person just by being presented as a gift. For me this is the first step with flower therapy, it's a connection with the eyes. Flowers evoke many emotions within us, through sight, touch and scent. Emotions which can trigger reactions of comfort and familiarity transporting us back in time to a place of memories such as childhood or to past loved ones.
Flowers help you to relax your mind and become present in their energy and the essence of oneself. Without realising it, when working with flowers the natural quintessence automatically influences you, transporting and conveying its healing message to you.

Have you ever noticed how a flower catches your eye? This is its way of catching your attention, saying "psst, there is something you should know". Whether it's with the scent that the wind carries your way or its vibrant colour or pattern, when a flower catches your eye you must pay attention.
In today's busy technologically driven world, we are constantly on the move and forget to take time to connect with what is going on within us. Working with flowers helps you to connect with yourself more spiritually and connect with the healing energy they provide; all it takes is for you to take some time out to close down your mind.
We all know how a walk in the park or in the countryside can help clear your mind and make you feel just that little bit better about yourself. Any worries you had suddenly seem to disappear or you find you have a solution to a problem. The energy of flowers can do just this, when you work with the flowers you forget all your troubles and stresses and become present in your mind. Have you noticed when Springtime arrives how the air is filled with hope, as the Crocus flowers appear, Daffodils start to stand tall like trumpets and the Daisies and Dandelions appear in abundance on the ground. This is the energy of hope, joy and optimism being amplified as we move through the season knowing that Summer is on its way.

Plants and flowers are living beings just like we are, our connection to them is like an invisible web connecting above ground, similar to the Mycelium network deep underground beneath our feet. They attract the pollinators with their frequencies and vibrations just as we do in trying to attract people to us.
I discovered through working with flowers, whether in a flower arrangements, circles or in a healing or reading session; how the elderly forget their ailments and how delicate they have become in the later stages of life as they were swept up in the energy of the flowers. I have witnessed the inner child of a person come through, as they begun to indulge and tap into their creativity of flower arranging, to recognise a part of themself that needed to be healed, and how the visually impaired feel the floral energy just by being in the presence of the flower. This had led me to understand how flowers can help us and has guided me to help women who are feeling a little lost within themselves, those who need to find their identity from being caught up in their journey in life and work with them to encourage and help them turn a flicker into a flame by boosting, their self-esteem and confidence, which may have gone astray.
Flowers have a way of getting to the root of what you need to deal with today. It could be for you to communicate more, which can be aided with the daffodil. Maybe you're looking to bring more love into your life, this area could need some healing with the energy of the Red Rose allowing healing of old wounds as you begin to open up to receiving more love. Flowers are part of the tools I use to help you to navigate your way in your life. I also teach you to find a reconnection to yourself, encouraging you to reignite your fire within.

My intention is to help people to see flowers through different eyes, eyes that do not see the beauty alone but the loving energy behind each flower, opening them up to a deeper connection to flowers, themselves and Mother Nature. We all a part of Mother's creation.
I'll inspire and encourage you to go and play in Nature's garden by teaching you how to connect with flowers, through their scent, look, texture and colour; I help you to tap into your uniqueness with your abilities, whether it's through intuition, clairvoyance, clairaudience or whatever your gift may be. I help you to open it up, acknowledge nature, respect her for all she has to offer us and to respect all she stands for, she will help you know that they are in communication with us.
"The gift of a flower to oneself is to feed one's soul, you don't have to rely on anyone else to feed it for you".
The Spiritual Flower Lady